Flat sharing Le Kremlin-Bicêtre
Looking for shared accommodation in the Paris region is a real challenge. Demand is very strong and prices are very high. More than 680,000 students live in the Paris Region, more than a quarter of all students in mainland France.
Students have difficulty finding accommodation, and often have a limited budget. Shared accommodation can be a real solution to these problems;
Colocation City offers shared accommodation in the Kremlin.
Le Kremlin-Bicêtre is a town to the south of Paris in the Val-de-Marne department; Practical thanks to its location, your accommodation in Le Kremlin will also appeal to you thanks to the calm of the town.
The Île-de-France region
The Île-de-France is densely populated, with 12.21 million inhabitants: 4.6 million in the inner suburbs and 5.4 million in the outer suburbs. In five years, the region has gained 254,000 new residents, or an average of 51,000 new Ile-de-France residents per year.
Student accommodation in Île-de-France
The majority of students looking to rent (53%) are primarily looking for a studio or T1 flat. The T2 flat is the choice of 12% of students, generally couples or more affluent. Student rooms, whether self-contained or in the student's own home, account for 14% of searches, while shared accommodation is chosen by 21% of students.
Val-de-Marne (94)
Val-de-Marne is a département in the Île-de-France region. It is so named because the Marne flows through its territory. This department on the outskirts of Paris is heavily urbanised, but still has a few rare agricultural areas in the south-east.
LE KREMLIN-BICÊTRE
Located close to Paris, at the heart of a dynamic urban area, Le Kremlin-Bicêtre offers a living environment conducive to well-being, with childcare facilities for toddlers, schools, colleges, a lycée and several higher education establishments. Le Kremlin propose aussi une offre commerciale, culturelle et sportive importante et un environnement agréable.
Presentation of the city
Kremlin-Bicêtre was founded in 1896. Its name brings together two of the city's former districts: Kremlin and Bicêtre. In recent years, the town has undergone a number of transformations, attracting young households who want to combine proximity to the capital with a quieter lifestyle.
Population
According to the latest figures published by INSEE, the people of Kremlin tend to be young (23% aged 15 to 29, 22.1% aged 30 to 44), with the majority being managers and higher intellectual professions (21%), employees (18.4%), retired people (16.1%) and intermediate professions (15%).
THE ADVANTAGES OF SHARING A FLAT IN THE KREMLIN
Economic: Sharing accommodation costs
One of the most important advantages of sharing is the possibility of saving money. This is the main reason why many people choose this type of rental. Instead of paying the rent and utilities alone, you share the costs with your flatmates. That way, you can spend more money on your hobbies or even save.
Convivial: Creating links with flatmates
When you live in a shared house, you are almost never alone. This can be an advantage or a disadvantage depending on your personality, but if you feel the need to be surrounded by people, sharing is an excellent solution. You'll be able to make lots of friends with very little effort.
Discover other shared accommodation in other towns in the Paris Region
Vanves
Vanves is a commune in the Hauts-de-Seine department, to the south-west of Paris, with which it borders. It is the twelfth most densely populated commune in France.
En savoir plus sur Vanves
Nanterre
Nanterre is a town in the western suburbs of Paris, in the Hauts-de-Seine department. It is a university town and home to the Paris-Nanterre University campus, where you will find many shared rooms.
En savoir plus sur Nanterre
Asnières
Asnières stands out for its wonderful urban landscape, made up of a mix of detached houses, apartment blocks and flower gardens. You can get to the city by water or road, or by public transport on the bus and metro.
En savoir plus sur Asnières
Serris
Serris is located in the Seine-et-Marne département near Marne-la-Vallée, with a population of over 8,000.
En savoir plus sur Serris
The best in furnished shared accommodation in Kremlin-Bicêtre
Colocation City offers you a furnished room in roommate in Kremlin-Bicêtre;
Fully furnished and equipped room of 12 m²
Magnificent shared room fully furnished and equipped. It has a double bed, a connected TV with ChromeCast, a large desk and plenty of storage space.
The apartment is composed of 5 rooms with shared bathroom and toilet.
It is also composed of large common areas with a living room with kitchen and dining room, and a lounge area.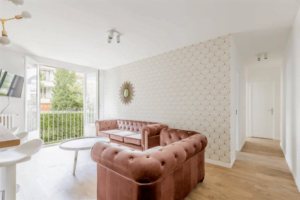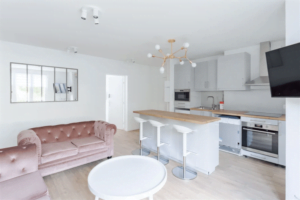 House of 250 m² with 9 bedrooms – Charles Gide
Very nice house of 250 m² composed of 9 bedrooms on 3 floors, each with private bathroom and toilet.
It also has large communal areas with a living room with fully equipped kitchen (fridge, freezer, dishwasher, induction hob, host, oven, microwave and all cooking utensils), and dining room.
Fully furnished and equipped, the common areas are particularly spacious and comfortable. The house has a laundry room with two washers and a dryer.
The apartment is located in the area of Kremlin-Bicêtre/Porte d'Italie, a few minutes walk from these two stations on line 7 (Metro 7).