Sharing in Asnières
Looking for accommodation in the Paris region is a real challenge, and even more so in Asnières-sur-Seine. Demand is very strong and prices are high. More than 680,000 students live in the Paris Region, more than a quarter of all students in mainland France.
Students struggle to find accommodation, often on a limited budget. Shared accommodation can be a real solution to these problems;
Colocation City offers shared accommodation in the Paris region, particularly in the following departments: Hauts-de-Seine (92) mainly in Nanterre, Asnières and Vanves, Val-de-Marne (94) in Kremlin-Bicêtre and Seine-et-Marne (77) in Serris near Disneyland Paris.
The Île-de-France region
The Île-de-France region is densely populated; It has a population of 12.21 million: 4.648 million in the inner suburbs and 5.389 million in the outer suburbs.
In 5 years, France's most populous region, home to 67.06 million people, has gained 254,000 inhabitants, an average of 51,000 new residents per year. This movement is partly due to the large surplus of births over deaths. All the departments in the Paris region recorded an increase in their population over the period in question. With the exception of Paris, which now loses almost 11,000 inhabitants every year. But half of them are moving elsewhere in the Paris Region.
Student accommodation in Île-de-France
We note that a majority of students (53%) are primarily looking for a studio or T1 (one-room) flat. The T2 flat is the choice of 12% of students, who are often couples or more affluent. Student rooms, whether self-contained or in the student's own home, account for 14% of searches, while shared accommodation is favoured by 21% of students.
Hauts-de-Seine (92)
Hauts-de-Seine is a French département that, since 1968, has essentially been the western suburbs of Paris. Its residents, who number 1,624,357 in 2019, are known as Altoséquanais.
Asnières
Asnières-sur-Seine has a population of 85,000; This town stands out for its wonderful urban landscape, made up of a mix of detached houses, blocks of flats and flower-filled gardens. You can get to the city by water or road, or by public transport on the bus and metro.
Today, the urban landscape of Asnières-sur-Seine attracts many people and encourages them to live here. Ancient buildings and modern architecture blend with green spaces to create a wonderful atmosphere.
Asnières is also a major cultural centre in the Hauts-de-Seine region. Every year, the town hosts a number of cultural events and is home to paintings by renowned artists. The legendary Alcazar, dedicated to art cinema, is one of the city's most visited sites.
The town has a wealth of green spaces. A symbol of the town, the Asnières rose, with its reddish-orange colour, is very much in evidence in the town.
The districts of Asnières
The Philosopher district
The Philosophe district is undoubtedly the most popular area in the whole of Asnières-sur-Seine. Historically very rich, it is largely occupied by the bourgeoisie. It features a number of parks and gardens, as well as quays along the banks of the Seine.
Bins
If you're looking for a calm atmosphere, head for Bac. This residential area consists mainly of houses with gardens. It is occupied by executives holding senior positions in Paris or La Défense. This is a very popular area for families, with its old, middle-class houses and proximity to well-known schools. This is where property prices are the highest in the city.
Flachat
The Flachat district is dotted with green spaces, and is predominantly inhabited by households with comfortable incomes. You'll also find shops, schools and health facilities.
Station district
Very close to the Parisian capital, this district is so named because of the presence of the Asnières-sur-Seine SNCF railway station in the area. This station is the gateway to La Défense and Gare Saint Lazare. Property prices in this residential area are high, mainly due to its geographical location. The area is very lively and particularly attracts a Parisian clientele, attracted by the station, which makes access to Paris easy and really fast.
Asnières heritage
Impressionism
Many artists have chosen Asnières as their place of residence or inspiration. This is the case for illustrious painters such as Van Gogh, Émile Bernard, Paul Signac and Seurat.
The castle
This building was constructed between 1750 and 1752 under the orders of the Marquis d'Argenson. It took the place of another building, which had belonged to one of the mistresses of the Regent of the time, in this case the Duke of Orléans. The building has been undergoing restoration work since 1978, and to date the work is far from complete, so only the ground floor is currently accessible to the public. Nevertheless, it's a castle that will tell you a lot about the history of the town, and even the history of France.
The dog cemetery
The dog cemetery at Asnières is quite unusual in that it doesn't house human remains, but rather animals. This cemetery was created in 1899. Contrary to its name, the graves here are not mainly of dogs, but also of cats, birds and even other animals.
Asnières in orthophoto!
Want to see what the city looked like in 1998? Explore orthophotography using the tool provided by the Hauts-de-Seine department.
Shared flat in Asnières : Just a few minutes from Paris and La Défense
The municipal authorities are investing in urban development work, which has led to the creation of high-quality transport links. The city is easily accessible thanks to an attractive public transport network.
In less than 10 minutes, Asniérois can reach Paris by SNCF train (Transilien Lines J and L), RER (Line C) or metro (Line 13).

The advantages of sharing with Colocation City
To ensure you get the best from your shared apartment, we rely on four pillars:
Comfort: Rooms with enough space to live comfortably, private bathrooms, Wi-Fi connection, a desk for studying or working, spacious communal areas for residents and a television for relaxing.
Location: On each of our adverts, we tell you how close the flat is to universities and schools, public transport, supermarkets, etc.
Safety: To make sure our residents feel at home, we choose residential areas that are highly sought-after in the commune. In addition, all of our accommodations meet the latest electrical standards and each roommate has a key to their room.
The commitment of our partners: Owners and landlords who make a commitment to us also make a commitment to you. If a claim occurs, everything is done to resolve it as soon as possible. Moreover, Colocation City accompanies you in your steps: from the search for property to the administrative steps, including the files of housing aid with the CAF.
Discover other shared flats in other IDF cities
Vanves
Vanves is a commune in the Hauts-de-Seine department, to the south-west of Paris, with which it borders. It is the twelfth most densely populated commune in France
Nanterre
Nanterre is a town in the western suburbs of Paris, in the Hauts-de-Seine department. It is a university town and home to the Paris-Nanterre University campus;
Serris
Serris is located in the Seine-et-Marne département near Marne-la-Vallée, with a population of over 8,000.
Le Kremlin
Le Kremlin-Bicêtre is a commune in the Val-de-Marne department. It is located to the south-east of Paris, near the Porte d'Italie.
The best of furnished flatsharing in Asnières
Colocation City offers many furnished flatshares and rooms in Asnières;
Furnished shared room – Écoquartier d'Asnières
Magnificent shared room fully furnished and equipped. This room has a double bed, desk, TV and plenty of storage space.
Newly refurbished 100 m² apartment featuring 4 spacious, bright bedrooms, a bathroom (with bath), a shower room (with shower + WC), a living room and a large open-plan kitchen.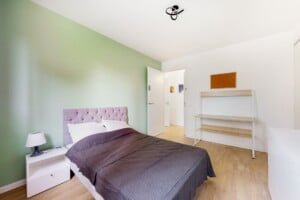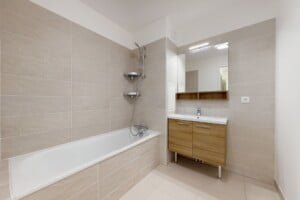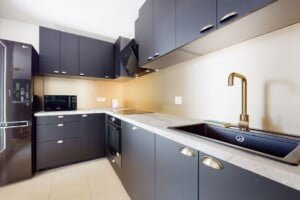 9 m² Room fully furnished and equipped
Magnificent shared room, fully furnished and equipped. This room has a double bed, desk, TV and plenty of storage space.
This 101 m² flat has five spacious, bright bedrooms, two bathrooms, a living room, a large open-plan kitchen and a 4 m² balcony!