Roommate in Lille-Centre
You are moving to Lille and are looking for an apartment in the Lille-Centre area? Find, visit and rent a room in a shared apartment with Colocation City.
Lille
Lille is the capital of the Hauts-de-France and prefecture of the Nord department. Lille has more than 230,000 inhabitants, making it the fourth largest city in France behind Paris, Lyon and Marseille.
Colocation City was immediately won over by the charm and potential of this city. That's why we offer exceptional properties in the best areas of Lille to provide students and young professionals with a quality living environment.
Lille-Centre
The district of Lille-centre is reputed to be the most popular district of the inhabitants of Lille. If you decide to live in this area, you will be a few steps away from the large SNCF train station of Lille Europe, the City Hall, the Opera of Lille or the Palace of Fine Arts. The district of Lille center is known for its old facades and cobblestone streets, which makes it the most charming district of Lille. In this area, you will also find the largest concentration of restaurants and bars in the city at your feet.
The other districts of Lille
Lille's other districts are just as pleasant.
Lille Vauban is the city's green lung, the student district par excellence.
Vieux Lille is a charming district with authentic cobbled streets and colourful Flemish facades.
The district of Lille Wazemmes is known as "popular". This lively district features bustling alleyways, Arab grocery shops, Asian food streets and its famous market.
How to find a roommate in Lille-centre with Colocation City
The advantages of sharing a flat with Colocation City
To ensure you get the best from your shared apartment, we rely on four pillars:
Comfort: Rooms with enough space to live comfortably, private bathrooms, Wi-Fi connection, a desk for studying or working, spacious communal areas for residents and a television for relaxing.
Location: On each of our adverts, we tell you how close the flat is to universities and schools, public transport, supermarkets, etc.
Safety: To make sure our residents feel at home, we choose residential areas that are highly sought-after in the commune. In addition, all of our accommodations meet the latest electrical standards and each roommate has a key to their room.
The commitment of our partners: Owners and landlords who make a commitment to us also make a commitment to you. If a claim occurs, everything is done to resolve it as soon as possible. Moreover, Colocation City accompanies you in your steps: from the search for property to the administrative steps, including the files of housing aid with the CAF.
Choose the room that suits you
Colocation City offers a wide range of apartments, so that you can find the room in which you feel most comfortable. Use our search engine to select your criteria and filter the rooms and flats to find the one that suits you best.
Lille, THE student city
Lille, a particularly dynamic city, is attracting more and more students. Indeed, the supply of training in higher education continues to grow and consequently the demand for housing as well. Lille-centre is a perfect area to welcome students. This district offers a high density of shops and an intense cultural life. What's more, Lille-centre is home to many trendy shops and bars.
Schools in Lille
In Lille, you'll find a large number of schools in 3 different orientations:
Long studies in university: University Lille 1 Sciences and Technologies, University Lille 2 Law and Health, University Lille 3 Humanities and Social Sciences
Long studies in school: Engineering schools, business schools, communication schools, journalism schools, art schools…
Short studies: BUT, BTS, professional licenses…
Student housing in Lille
More and more students are attracted to shared accommodation because of its financial advantages. Sharing the rent with several people gives access to larger units. Student flatsharing in Lille is highly recommended as it allows new students to quickly establish ties with other students and to get their bearings in a city that is unknown to them.
Special student aid
There are many housing assistance programs for students. The best known are :
CAF : The type of assistance varies according to the type of accommodation and the ratio of charges to income; The APL (Aide personnalisée au logement) is reserved for conventional housing and the ALS (allocation de logement à caractère social) for other housing, provided that they are decent (surface area of the housing, sanitary facilities, running water…).
Action Logement : No guarantor when signing the lease? In case of payment default, the State will act as guarantor through the Visale Guarantee (the application is made online on the Action Logement website, it is advisable to take the necessary steps in advance in order to obtain a certificate valid for 3 months). Another aid, the "Avance Loca-pass", offers students the possibility of taking over their security deposit in the form of a 0% interest loan.
Roommate in Roubaix, a few minutes from Lille
If you prefer to live on the outskirts of big cities and appreciate proximity and tranquility, Colocation City also offers you its roommates in Roubaix. Indeed, to reach Lille, it will take you only 20 minutes by public transport or by car. In addition, many schools are also located in Roubaix. This city has relied on the development of campuses of major schools (EDHEC, ENSAIT, ESAAT…)
Learn more about roommates in Roubaix
The Residence Sainte-Famille of Lille
Colocation City's Sainte-Famille Residence is an island of peace and security in the center of Lille. The neighborhood is residential and really peaceful and you will be close to all the amenities. What's more, all the flats have recently been refurbished.
Learn more about the Residence Sainte-Famille de Lille
Discover properties Colocation City à Lille-Centre
Colocation City offers a wide range of shared flats and furnished rooms in the centre of Lille.
Apartment of 84m² with 3 bedrooms
Apartment of 84 m ² redone for nine is composed of 3 luminous rooms, of a bathroom and separate WC, of a living room and of a big American kitchen.
It is also composed of large common areas of 50 m² with a living room, a fully equipped kitchen (refrigerator, washing machine, oven, microwave, hood …), two bathrooms and two toilets, dining room, and a side lounge fully furnished (TV, sofa, coffee table …).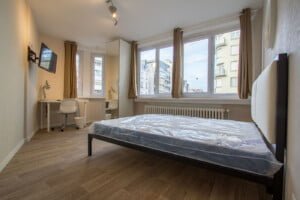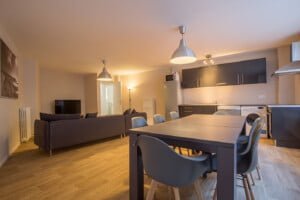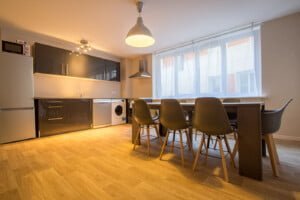 Apartment of 700m² with 19 rooms
Apartment of 700 m² built on 3 floors, composed of 20 spacious and luminous rooms, a bathroom and a private toilet in each room, a living room and a large American kitchen; It is also composed of large common areas of 135 m² with a living room, a fully equipped kitchen, library, dining room, and a living room side completely furnished with a home cinema and offers seating for 20 people.